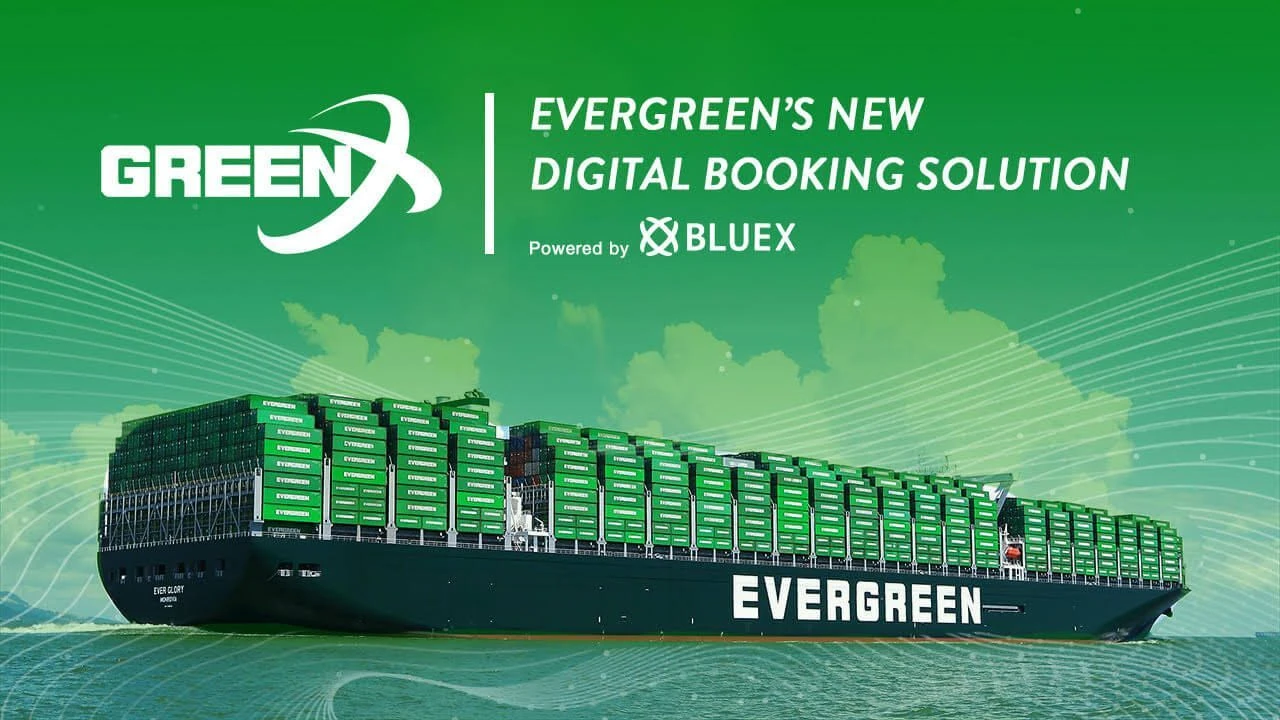 How to Book Ocean Freight on GreenX
Created on Jan 11, 2023
Updated on Mar 03, 2020
An integral part of the BlueX Freight Commerce Platform is giving customers the tools to effectively make bookings through a digital platform, such as GreenX.
Far from being a standalone feature, our instant quotes and fast digital bookings are the first steps in offering an array of services that digitally enable customers to book effectively and to facilitate container monetization strategies for carriers.
Traditional Ocean Freight Booking vs. Digital Ocean Freight Booking
Traditional booking procedures are still common in the freight industry, and the complex nature of moving cargo usually necessitates shippers to outsource their 3PL to third-parties. We at BlueX created the world's first Freight Commerce Platform (FCP) to digitally bridge the divide between shippers, trade services, and ocean carriers.
As part of our trade services in our FCP, instant ocean freight quotes and bookings are a vital part of what we offer shippers on our digital ecosystem.
With GreenX, you'll be able to utilize our digital booking system and avoid the need to make up four phone calls, 12 emails, two faxes, and between 12-48 hours to make a cargo booking.
How to Make an Ocean Freight Booking on GreenX
To get started on your first GreenX booking, first register with Evergreen Line. Once you've been approved, you will be able to get started on making a digital booking through GreenX, a BlueX white-label solution.
1. Get an Instant Freight Quote
The GreenX platform allows you to search for port-pairs across all Evergreen Line routes through a digital interface.
Simply input your port of origin to your port of delivery, along with the type of container and your estimated time of departure, and click search. It's that simple.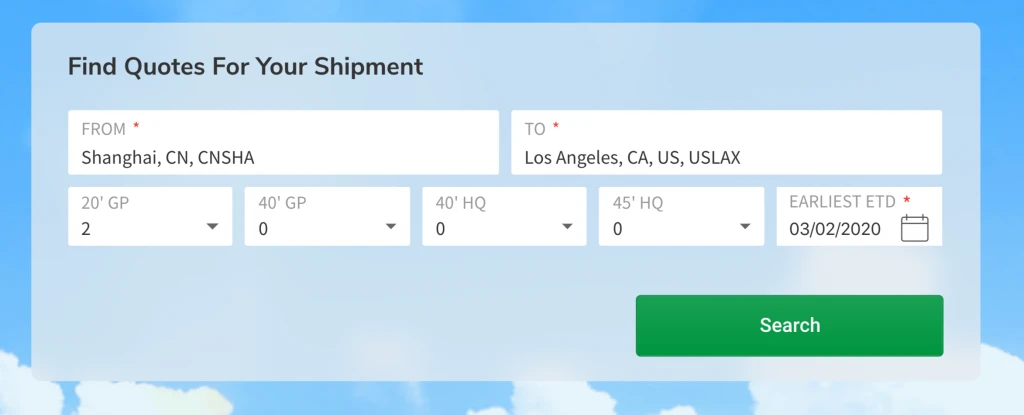 2. Choose a Port pair
Once you've submitted your search, you'll now be able to review all possible routes and rates for your cargo, as shown below: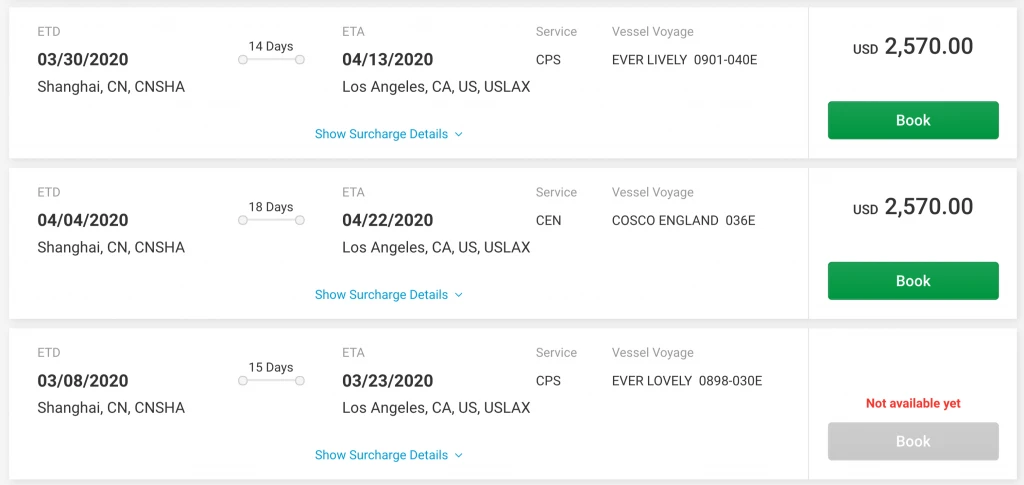 You will also be able to use filters to narrow down your searches through specific criteria that include ETD, ETA, Port of Discharge, and the services you require.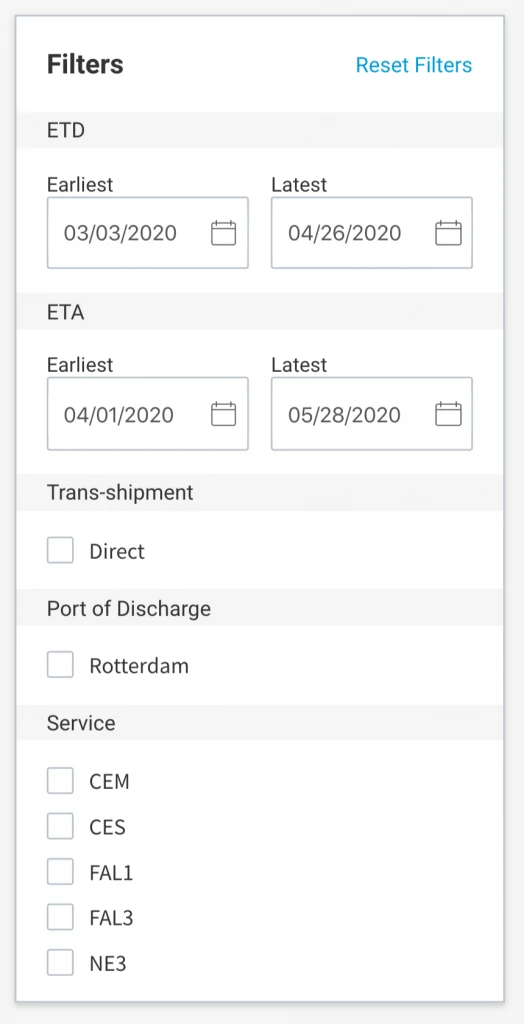 You can also search for routes based on their price and whether partial space is available.
3. Enter Booking information
Once you click "Book" on your desired route and rate, you'll then be able to fill in the information about your booking parties, shippers, consignees, importers, and forwarders.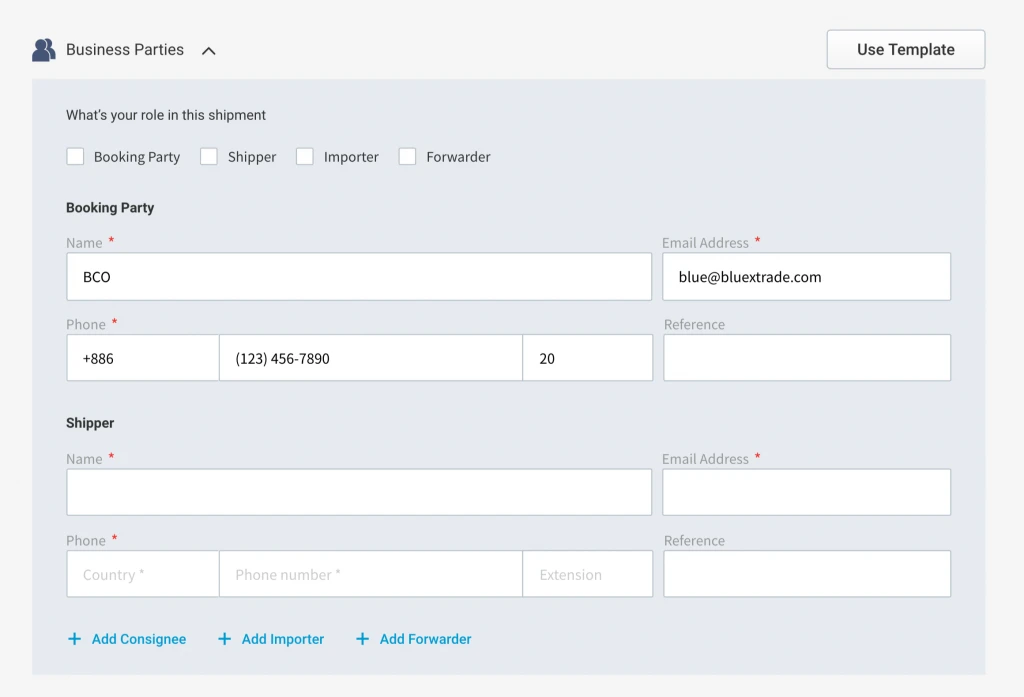 4. Review and Reserve
Now that you've filled in all your booking information, you'll now be able to review everything that you've submitted. Once you're satisfied with your booking, you can click to make your reservation.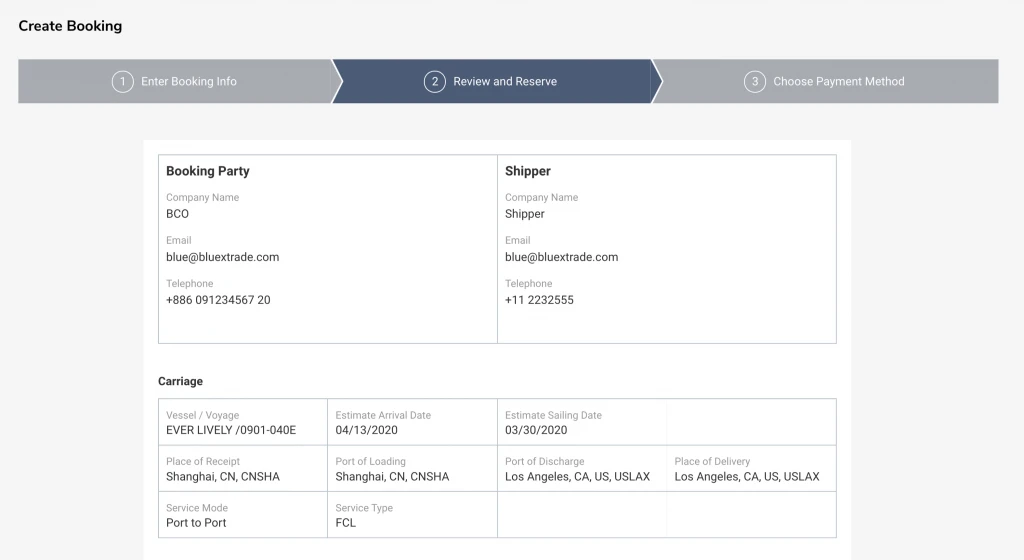 5. Choose Your Payment Method
GreenX currently offers two payment options: Traditional payments via an Evergreen Line counter, or payment through ACH (Automated Clearing House).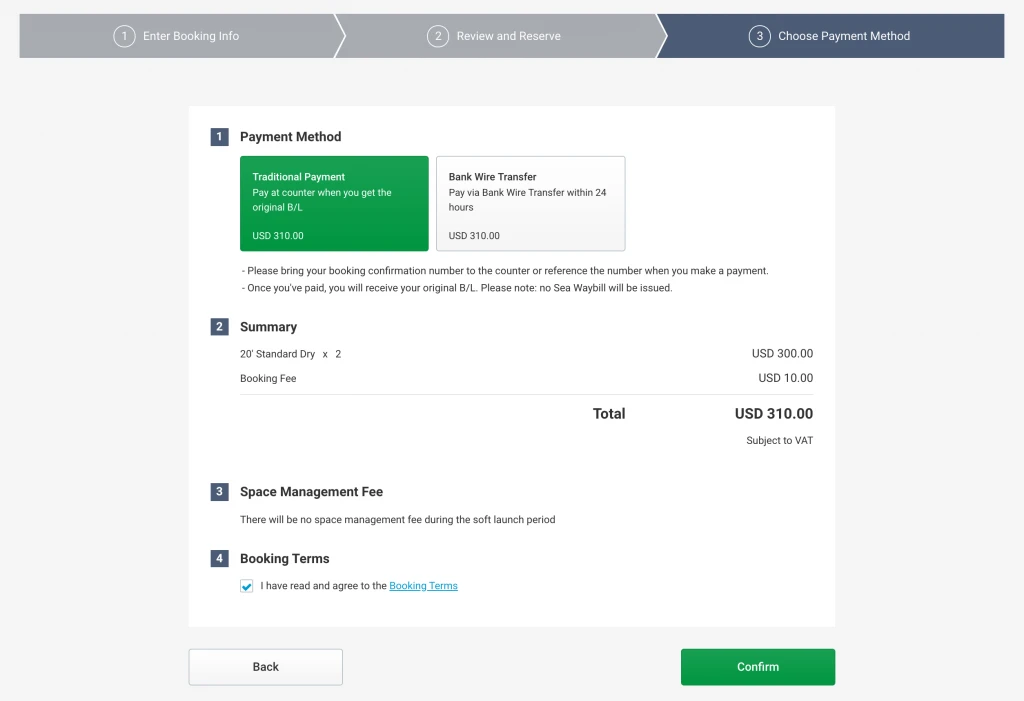 Whichever option you decide to use, please be aware that you'll not be able to change your method of payment once you confirm. You can also opt into paying for your bookings later with our financing solution that gives customers the option to pay between 15, 30, 45, or 60 days later after making booking.
6. Manage Your Bookings
Once you've verified your payment through GreenX, your booking will be confirmed, and you can manage it on the "Bookings" dashboard, along with all of your other bookings. Here, you'll be able to review your booking's following information:
Application no.
Booking parties
Your Vessel
The cut-off date
Your booking price
Booking port pairs
Your booking status
Required actions for bookings
Other Benefits of GreenX
Far from being only a freight booking platform, the BlueX powered GreenX is an all-in-one solution built to connect all players in the shipping industry. We're continuing to grow our 3PL service providers on our Freight Commerce Platform and plan to offer fully integrated inland services, globally integrated logistics, and, most of all, an effortless customer experience.
To get started on GreenX, make sure to check out why you should sign up, and register today. If you're not an Evergreen Line customer, make sure to join our Shipper Ambassador Program to help us showcase to your carrier of choice why they need to be part of the BlueX Freight Commerce Platform.