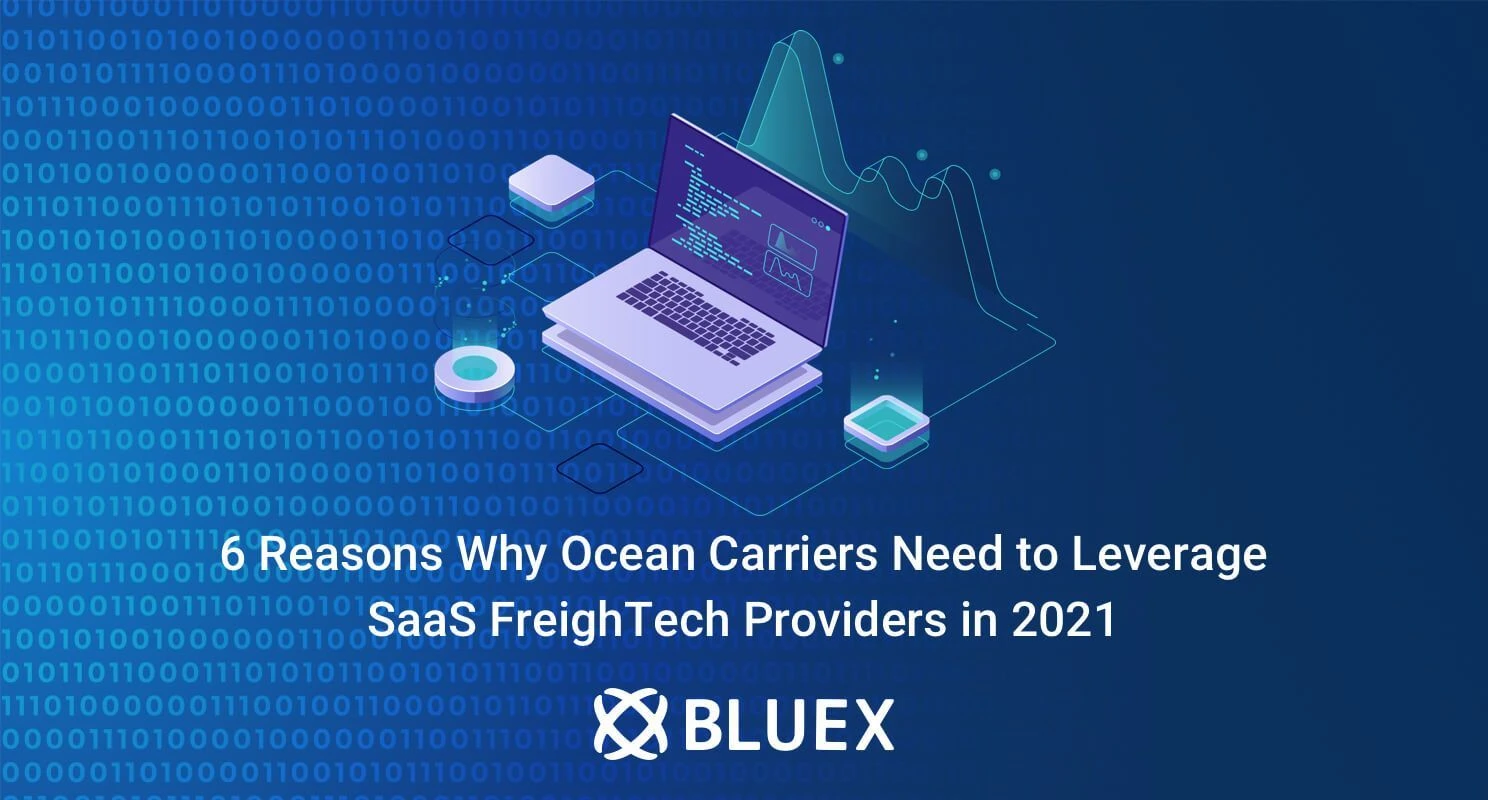 6 Reasons Why Ocean Carriers Need to Leverage SaaS FreightTech Providers in 2021
Created on Jan 10, 2023
Updated on Dec 28, 2020
Maersk, Hapag-Lloyd, ZIM, Evergreen Line, and Yang Ming Marine are all leading the way when it comes to digital transformation, with the speed of change quickening every quarter. For example, Maersk went from 41% of its short-term bookings occurring online at the end of Q3 to 53% of its short-term bookings occurring online by Oct 2020. For carriers that have not launched an online spot market, how can they catch up with the digital carriers without losing customers in the process?
With the prevalence of digitalization growing in international commerce, a digital spot market will become table stakes by the end of 2021. To help you understand why here are six reasons ocean carriers need to outsource their spot market to third-party SaaS FreightTech providers in 2021.
1. Gain Speed to Market by Leveraging BlueX's "Solution in a Box" FreightTech
Many carriers face a reality that they may not have the expertise to accomplish their digital transformation strategy alone. Ocean carriers generally have the resources, workforce, and willpower but lack the expertise to execute and maintain a rapidly changing digital platform.
Currently, there have been two strategies (Buy vs. Build) to achieve digital transformation in ocean freight, which include:
Evergreen Line and Yang Ming Marine – Partnered with a neutral FreightTech SaaS provider called BlueX to launch their online booking platforms and continue to add more capabilities such as AI-driven pricing tools
Maersk – Invested heavily for years into building a digital spot rate with their own asset-heavy logistics network
A third strategy is emerging, which includes the deployment of both a Buy and Build strategy. Carriers employing this strategy may launch a SaaS solution in certain regions to address immediate competitive concerns while they build their solution in other regions in parallel.
2. Reduce Risk and Access World-Class Digital Resources
Digitalization is not easy and requires highly specialized resources to build global platforms. Getting a solution wrong can lead to system downtime, potential hacks by malicious parties, and damage to a carrier's brand and growth.
FreightTech players spend 100% of their time focused on making the product and experience better.
The best ones will have a team of world-class operators who can manage a carrier's digital growth adeptly to focus on other areas where they excel.
3. Ability to Scale and Remain State-of-the-Art on a Proven Platform
Many ocean carrier executives may think that creating an online platform with e-booking capabilities is their endgame, but it isn't.
It's the start.
Digital platforms and digital booking capabilities are simply two spokes in a wheel. It might give you the support to move forward, but it's just the beginning.
For example, Maersk's initiatives showcased their growing ecosystem by acquiring, developing, investing in, and building in-house solutions that added new spokes on their wheel at an unprecedented rate. As a result, Maersk sets the bar and level of services that customers will expect to receive.
Maersk fundamentally rewrote their DNA and turned from pure shipping to becoming a 'full-stack global logistics service provider.'
However, many ocean carriers may not have the expertise or knowledge to create or invest in new technologies to enable digital transformation.
4. Enterprise-class Information Security
Since 2016, four out of the top 10 ocean carriers have undergone cyberattacks, causing massive disruption for some, such as Maersk losing up to $300 million. Ocean carriers can also be fined and face steep penalties for data breaches. According to CSO, companies aren't paying paltry amounts in fines either, with hundreds of millions of dollars of issued fines.
At BlueX, we understand the need to prevent data breaches and understand that backing up data is essential to quickly recover from attacks and prevent as much operational disruption to customers.
The BlueX ecosystem, that powers two of the world's top ocean carriers, is protected with enterprise-class information security, with the following:
World-class information security with high availability
Virtually isolated systems
Secure data encryption
Secure backups for fast disaster recovery
IT expertise is paramount to architect a system that offers the security you need to protect your data. Third-parties can offer this security with the expertise you need.
5. Reach More Customers and Drive Greater Revenues and EBITDA
In our white paper "Digitalized Carriers Driving 2X Better Shareholder Value," we at BlueX found the following:
The average return on invested capital (ROIC) for container carriers for the last 20 years was 2.6%
Carriers have not been able to return their weighted average cost of capital, which is between 8-10%
The market cap to EBITDA ratio for digitalized carriers is 9.8x while the ratio for non-digitized carriers is only 5.7x
There is a $45 billion market gap wedge between digitalized and non-digitalized carriers that will only grow with time
Digitalization is a necessity to reach more customers, improve revenue, and EBITDA.
6. AI-driven Prediction Capabilities
At BlueX, we recognized that AI-driven analytics for ocean carriers could increase revenues by significantly improving price predictions.

Outsourcing such analytical technology to third-party SaaS providers like BlueX gives carriers a competitive advantage in the market and will allow them to address demand fluctuations with tools that have been built to maximize revenue using the latest in AI technology.
Outsource to BlueX in the Digital Age of Ocean Freight
At BlueX, we've proven our value as a premier SaaS solution provider in ocean shipping. Evergreen Line, Yang Ming, and many more are using our system to scale digitally.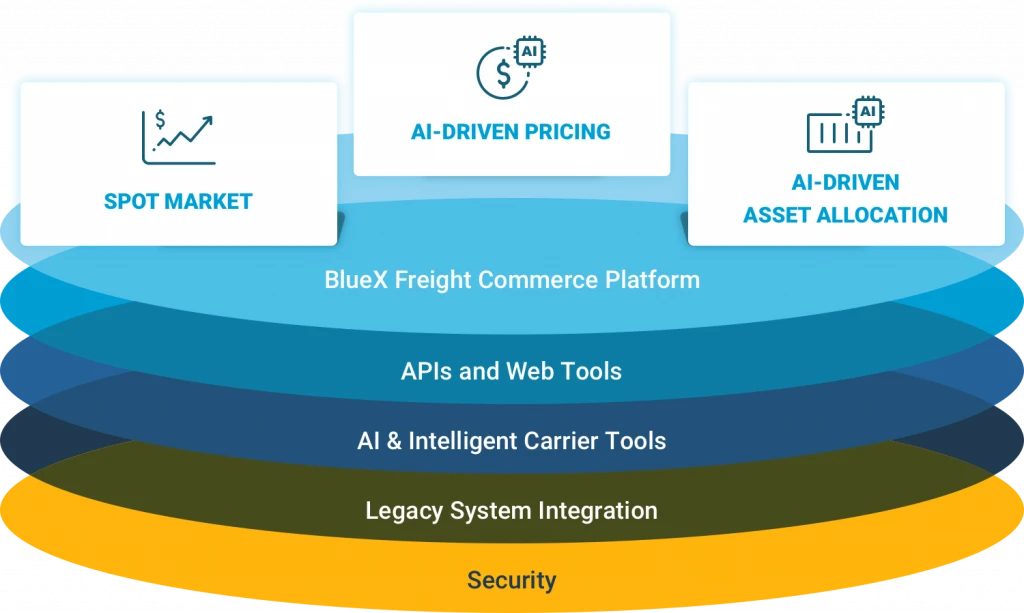 While it's possible to build these systems in-house, it is expensive, risky, and carriers could lack the corporate agility needed to scale as fast as competitors to satisfy customer and shareholder expectations. We at BlueX can give you the FreightTech you need to enter ocean freight's future digital landscape.